How Real Estate Agents Can Rank in Google and Get Leads 
-A Step-by-Step Guide-
What is Google My Business?
Google My Business (GMB) is a free tool that Google provides for any business that interacts with local customers.
GMB allows a business to appear in Google Search and Google Maps, as opposed to just the organic search results. 
This is known as the 'Map Pack'.
Unlike in Google's organic results you wont be competing with Zillow, Yelp and other huge companies. In the map pack, you compete with other local agents and offices (If your business merits it, you can show up in both the map pack and organic results).
The map pack appears above the organic results and provides a businesses contact info plus their review rating.
Here is the map pack for the search term, "real estate agents rochester ny". Clicking the "more places" link will bring up dozens of additional listings.
Knowledge Panel
When a potential customer is close to making a decision they will often do a 'branded search", that is a search for your name to see what comes up.
When you have a GMB listing the searcher will be shown your "knowledge panel" in addition to the traditional organic results.
Here are the search results for Brightside Home Inspections to illustrate what the the knowledge panel looks like.
This guide will help you get your GMB listing started today, and if you already have a listing, great!
Google has added lots of new GMB features recently so even existing users can benefit from optimizing their listing using the steps below.
So grab a coffee and let's get to it!
That's Great and All…  How does GMB Get Me Real Estate Leads?
Creating a GMB listing should be one of the first steps in establishing an online businesses profile.
For agents this should be done alongside the creation of a Zillow etc. profile; it's critical for a strong foundation.
Here's how GMB will help you:
GMB will increase your lead opportunities.  According to National Association of Realtors research 69% of home buyers use a local search term like, "Syracuse realtor" during their home buying research. Looking at local search data there are on average 500+ searches every month for "Syracuse realtor" or a variation of it like, "real estate agent syracuse ny". This doesn't even include searches like "Camillus realtor" or "real estate agent CNY" etc. These are what are referred to as 'buyer intent' searches, these folks are in the market for a local agent. These are the kinds of searches that an agent with a GMB profile will show up for in the map pack, greatly increasing your chance at converting those customers.
As an individual business owner this is a great opportunity and broker owners should be doubly excited. Each member of your team having a fully optimized GMB listing means an exponential increase in online presence.
GMB will improve your chances at converting potential customers

through its review component.

91% of people age 18-34 trust online reviews

as much as a personal recommendation. Not only can you utilize Google reviews, GMB can also find reviews from up to three other sources including your Zillow profile and include them in your listing. Take another look at the knowledge panel example above, you can see how it pulls in 3rd party reviews in the "Reviews from the web" section. You can't control what review sites it pulls in and the review sources do change from time to time.
Google will send you easy to read monthly reports on how many people are finding your business via your GMB  listing. It's a simple barometer for how strong your online presence is within Google and whether it's improving or not
How to Create and Verify Your Real Estate Business on GMB
Step 1: Go to the GMB setup page – Click the Sign in Button on the top right corner (if you already have a GMB account skip down this blog post to more relevant information by clicking here)
Step 2: Sign in with the Google account you want associated with your business. If you don't have one already click the Sign in button and then click create account toward the bottom of the page.
Step 3: Enter your business name – For an agency this is relatively straightforward. For example, "Best Syracuse Realty" and click next.
This works a little differently for real estate agents. Agents are considered 'practitioners' by Google. Read more below.
Google states that your businesses name should be your name and your title but should exclude the agency name. For example, "Jane Doe – Real Estate Agent". More details in the image below.
Step 4: Add a location. You have two choices here. You can enter your agencies address or enter your home address. You can hide your home address from customers if you choose that path.
It's not an exact science, but Google will generally rank you higher closer to the address you choose.
For example if you live in Lafayette but work out of Clay consider in which location you would rather rank higher in Google. As a general rule of thumb choose an office address if you are unsure or on the fence.
If you select an office location, choose yes; if want to use your home, choose no.
Step 5: Service Areas.
A) In step 4 you selected, Yes:
Enter the address of your office. Click next and yes and then add the areas you serve via zip code or town name or both.
B) In step 4 you selected, No:
Enter the areas that you serve via zip code or town name or both.
Step 6: Choose your business category. 'Real estate agency' or 'real estate agents' are the best options for most folks.
The business category is important so Google can determine what kind of searches you show up for (you can change later if needed).
Step 7 : Add your phone number and website.
Don't have your own website? That's OK. Here are some options:
A) Select I don't need a website. This is not recommended, but is better than not creating a GMB listing.
B) Use your web page from your agencies site i.e. https://www.howardhanna.com/Jane-Doe/
This is a good option if you want to get more leads and never think about any of this Google My Business stuff again.
C) Use the 'Get a Free Website' option. This uses Googles very own website builder. It creates a one page website that uses the info you are entering into GMB right now.
This is a good option if you want to have more ownership over your online presence, but will require a little more work.
You can always change this later if you change your mind.
Step 8: Verify your business. Google will mail a postcard to you so that you can verify your business.
Your postcard will usually come in under 5 days. Once you receive it you'll need to login to the GMB Dashboard and enter the 5 digit pin to verify your listing.
You've created your listing. Congratulations!
Now lets finish optimizing it (or bookmark this article and come back once you receive the postcard).
How to Optimize Google My Business
Google gives preference to listings that are fleshed out, encouraging you to fill out as much information as you can.
As you can see in the image below the listing is 40% complete so far.
On the left of your GMB dashboard you'll see a menu. Click on the info tab to enter additional business information.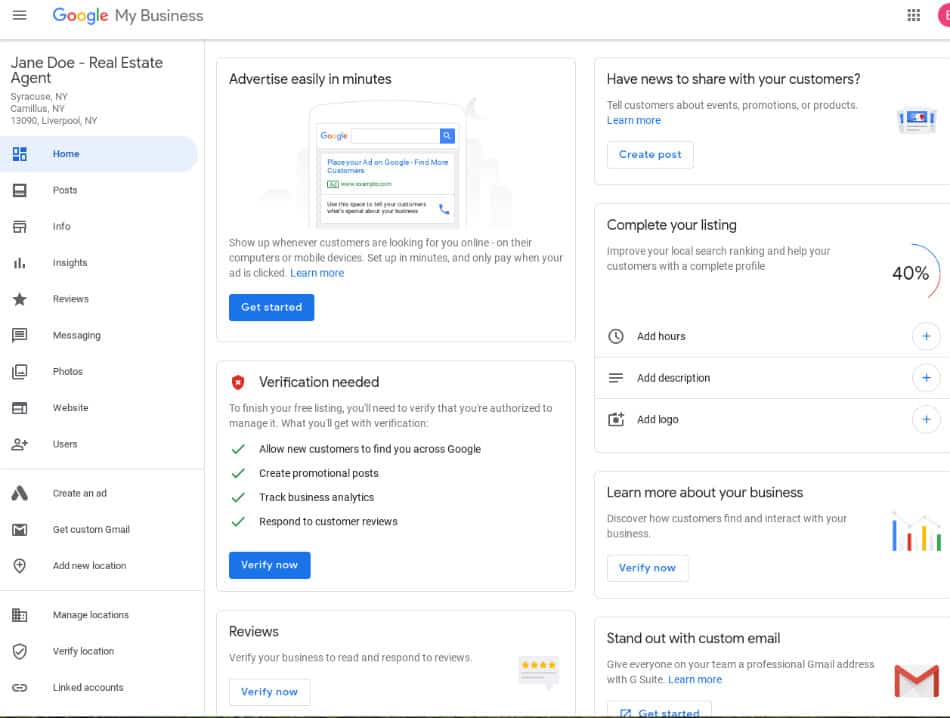 Hours – Enter the hours you are available, keep in mind folks will be expecting you or your office to pick up the phone during these hours so don't bite off more than you can chew.
Business Description – Write a description of your business – the services you offer, your experience and what sets you apart from everyone else. The max length is 750 characters.
Add Images & videos. These will increase user engagement with your profile

Identity – Business logo, cover image, etc.
Photos of the Team
Anything that showcases your business
Again if you never want to think about your GMB listing again you can stop right there.
If you want to fully optimize your listing there are a few more things you can do.
Each of the items below has their own section on the GMB dashboard menu on the left-hand side.
Reviews –  Reviews are one of the most important components of the GMB listing. Solicit and respond to reviews. Look for a future article on this.
Google Posts – This is a topic for another time but if you're so inclined, try experimenting with Google Posts. Google Posts is similar to social media, it lets you promote one post for 7 days that appears in your knowledge panel. For agents this might be useful to promote open houses, new listings, price drops and new reviews.
Questions and Answers – You can p

opulate this feature with your Frequently Asked Questions (FAQ)

Messaging – It can't hurt to turn it on. This features lets potential customers send you a text, however it doesn't seem to get much use except for certain kinds of businesses.
Voila! You're done.
If you want to edit or add to your GMB listing you can anytime, including from your phone if you download the GMB app… For Iphone. For Android.
Scott Brown is the owner and founder of Brightside Home Inspections. He also dabbles in eCommerce through his business yayak. Prior to that he was on the executive management side of a large residential remodeling company and graduated from Syracuse University. He once ran a 14 minute mile. Scott resides in Camillus, NY with his wife and son.
Have questions about home inspections or marketing? ➡ [email protected]